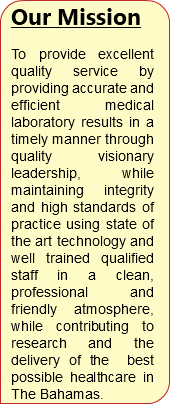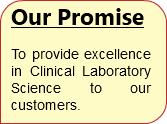 Bonaventure Medical Laboratory is committed to providing service of the highest quality to our customers.
In order to ensure that the needs and requirements of our customers are met, Bonaventure Medical Laboratory:
Provides Quality Management which integrates our organization, procedures, personnel and resources.
Sets strategic objectives and plans to implement and maintain our quality policy.
Ensures that our staff members provides the same level of customer satisfaction to each customer.
Is committed to the health, safety, and welfare of our patients.
Provides a CLEAN, COMFORTABLE, and PLEASANT environment.
Promotes professional values and continuous training among our staff to provide proficiency and excellence.
Bonaventure Medical Laboratory is committed to compliance with the ISO 15189:2003 standards.
The procurement of state of the art Equipment and maintenance of such equipment and other resources as are needed for the provision of efficient, modern laboratory services.
The collection, transport and handling of all specimen in such a way as to ensure accuracy and quality of results.
The use of examination procedures that will ensure the highest achievable quality of all tests performed.
Reporting results in ways which are timely, confidential, accurate and clinically useful.
The assessment of customer satisfaction, in addition to internal audit and external quality assessment, in order to produce continual quality improvement.